MW Level Grid Battery Energy Storage System
1MW ~ 10MW Hybrid Grid Energy Storage System
ETEKWARE's LiFePO4 Battery Energy Storage System(BESS) is a powerful and scalable Lithium Iron Phosphate Energy Storage System, which can be applied in a wide array of energy storage situations, such as heavy traction, stationary, industry, telecommunications, weak and off-grid, self-consumption systems, smart-grid, etc. Our powerful and efficient battery rack system has countless merits such as a longer life cycle, excellent quality, higher safety, intelligent BMS technology, and so on.
Product Features
Battery Energy Storage System (BESS) does show a lot of appealing facets through its product features. Thanks to the well-accepted and marketable lithium iron phosphate (LiFePO4) batteries, it has an abundance of attractive points such as longer cycle life, lighter weight, higher power, and superior safety, suitable for a wide range of occasions.
Also, this battery rack is equipped with a smart BMS with overcharging/discharging protection, supportive multiple communication protocols, and long power storage. In addition, our product has 1MWh ~ 10WWh for you to choose in terms of the power conversion system.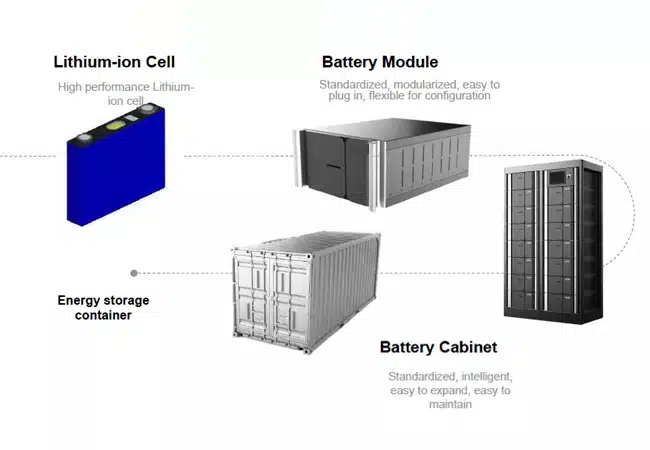 BESS is an intelligent and modular power supply equipment integrating lithium battery and MPCS. According to different application scenarios, lithium battery, bidirectional DC/AC converter, bidirectional DC/DC converter, Static switch and Power management system can be flexibly combined to realize grid connected power supply, off grid power supply and off grid uninterrupted power supply, static reactive power compensation, harmonic suppression and other function, etc.
Additionally, modular design facilitates easy integration, simple operation, and maintenance, improving the overall performance of battery storage and usage. What's more, ETEKWARE can offer customized battery rack systems as our customers require.
Besides, our product has acquired numerous professional product certifications based on international and industrial standards, such as BIS, IEC, ISO9001 certifications. As for the technical parameters, you may check the bottom of this page on our official website ETEKWARE for your reference.
Supported by the various shining points and utilitarian functions owned by our LiFePO4 Battery Energy Storage System (BESS) mentioned above, our product may be the battery energy storage solution that you are seeking right now. Above all, we are sincerely looking forward to your early request for our product in the near future.
Technical Parameters
Model
DC Normal
Voltage [VDC]
Battery [Ah]
Total Power
[kWh]
ESS Container
[ft]
PCS [kW]
Operating
Temperature [℃]
Certification
BESS1000
768
200
1536
20
500
-20 ~ 55
CE/UN38.3/MSDS/G99/EN50549
BESS2000
768
280
2150
40
600
-20 ~ 55
CE/UN38.3/MSDS/G99/EN50549
Please fill out the form below or send an email to [email protected]
We will get back to you promptly.