Lithium-ion LiFePO4 Forklift Battery
24V/48V LiFePO4 Forklift Battery
ETEKWARE's lithium-ion forklift battery has a wide variety of efficiency benefits, including high power density, fast charging, superior BMS system, modular design, excellent all-round visibility, high lifting, and excellent driving performance. What's more, ETEKWARE's 24V/48V lithium-ion golf cart batteries are widely used in cold storage/freezer, multi-shift, and tight margins applications. Our lithium-ion forklift battery will be a perfect long-term solution for customers in the material handling industry to reduce labor costs and improve productivity.
Product Features
More pros of our lithium-ion forklift battery are as follows. First and most importantly, its increased expectancy can be up to 3000 charging cycles. And our lithium forklift battery is relatively maintenance-free because it is sealed and requires no watering or cleaning. It has a fast-charging time, requiring only 2-3 hours to fully charge with no cooldown period. Our customers can also employ this opportunity to get it charged, which means people can plug them in during a break period for a quick charge. For instance, users can easily plug lithium-ion batteries straight into the wall outlet. Besides, it does not expose your team to harmful substances such as sulfuric acid.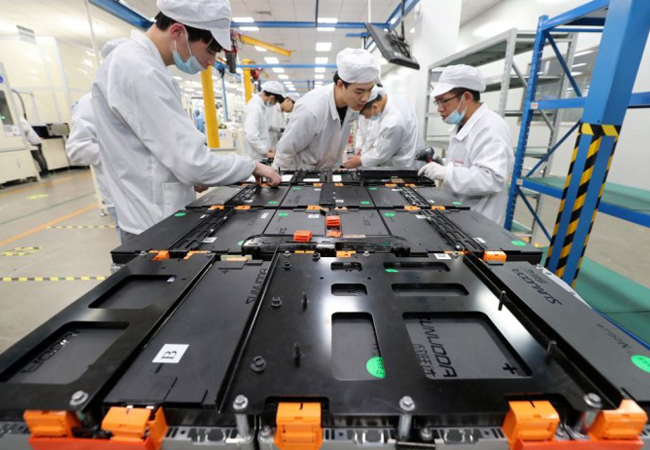 Accompanied by our lithium-ion LiFePO4 forklift batteries, you will have a greater chance of running your business in a much smoother way. The cycle life of our lithium forklift battery is warranted to 3000 cycles so there is less and less need for the battery to be replaced, which may be a major factor when budgeting for battery maintenance and replacement. In addition, lithium-ion batteries hold and sustain more power and maintain a constant voltage throughout the discharge cycle, leading to as much as 50% energy savings compared with a lead-acid battery.
In summary, lithium-ion forklift batteries have an obvious advantage in nearly every aspect. They require little maintenance, have fewer safety risks, and are much more energy efficient – a win-win for both the environment and the overall efficiency of our customers' operation. Although they may cost a little more at the initial stage, if properly maintained, they will be far less expensive and save some costs over the long term. For more technical parameters or specifications, you may kindly move on and find out more details below. Above all, ETEKWARE is sincerely hoping for our future win-win cooperation.
Technical Parameters
Model
Voltage
Capacity
Charge-cut-off
Voltage
Chemistry
Weight
Dimension(mm)
Discharge-cut-off
Voltage
Charge Current
Life Cycles
FL24
24V
160Ah
25.6V
LiFePO4
55Kg
560×165×510
40V
100A
>3000 @ 90% DoD
FL481
48V
300Ah
51.2V
LiFePO4
400Kg
975×780×625
40V
400A
>3000 @ 90% DoD
FL482
48V
420Ah
51.2V
LiFePO4
540Kg
835×525×722
40V
400A
>3000 @ 90% DoD
FL483
48V
660Ah
51.2V
LiFePO4
1350Kg
880×995×600
40V
400A
>3000 @ 90% DoD
FL484
48V
1008Ah
51.2V
LiFePO4
1280Kg
835×636×715
40V
400A
>3000 @ 90% DoD
Please fill out the form below or send an email to [email protected]
We will get back to you promptly.