Lithium-ion LiFePO4 Aerial Work Platform Battery
24V/48V – Aerial Work Platform Lithium Battery
When our customers are working at heights performing daily operations, our Lithium-ion LiFePO4 Aerial Work Platform Battery can possibly serve as a terrific assistant, which is specifically designed for aerial work platform applications. It has possessed a number of shining edges thanks to the advanced new lithium-ion battery technology like long lifespans, more lifecycles, fast charging, etc., bringing our customers much more reliability and efficiency.
Product Features
Relying on the new battery technology-lithium battery, our company is able to offer our customers powerful and safe energy with smart systems integration functionality to demonstrate exceptional performance to get the job done and thus enhance their productivity. Flexible parallel connection, integrated heating function, high precision cell detection, and long cycle life are also its advantages. Besides, our product is equipped with excellent BMS so that voltage, current, and fuel gauge will be accurately calculated. For the type, our company offers 24V and 48V aerial work platform batteries with different capacities for our customers.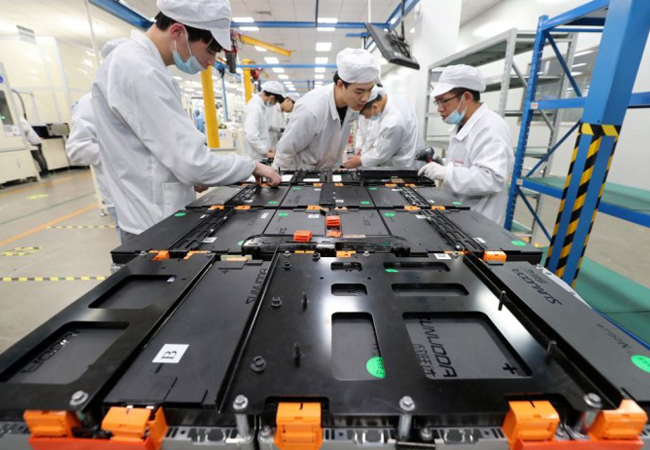 As we all know, an aerial work platform is a mechanical device used to provide temporary access to inaccessible areas, usually at greater heights, which requires constant power. Our ETEKWARE Lithium-ion LiFePO4 Aerial Work Platform Battery can effectively help the aerial work platform to solve the power need usage problem and improve the whole process efficiency by supplying reliable and constant power. What's more, our Lithium-ion LiFePO4 Aerial Work Platform Battery is the battery that suits well for all weather conditions so that our customers will perform operations outside in a smoother way.
Cost reduction, no battery swapping, high energy density, and extra storage room are also attractive points of our aerial work platform batteries. While working on the aerial platform, our customers will feel quite relieved and confident when ETEKWARE can provide advanced safety, superior battery cell, and delicate battery designs with Lithium-ion LiFePO4 Aerial Work Platform Battery. For more technical information, please kindly refer to the following section to check the technical parameters. As for our product itself, please feel free to contact us if you need any assistance. Our technical team is always there to help you with expert knowledge.
Technical Parameters
| Model | Voltage | Capacity | Energy Density | Chemistry | Weight | Length | Width | Height |
| --- | --- | --- | --- | --- | --- | --- | --- | --- |
| AWP241 | 24V | 105Ah | 2680Wh | LiFePO4 | 24Kg | 448mm | 244mm | 261mm |
| AWP242 | 24V | 105Ah | 2688Wh | LiFePO4 | 24Kg | 448mm | 244mm | 261mm |
| AWP243 | 24V | 160Ah | 4090Wh | LiFePO4 | 39Kg | 508mm | 350mm | 191mm |
| AWP244 | 24V | 160Ah | 4096Wh | LiFePO4 | 43Kg | 524mm | 360mm | 261mm |
| AWP48 | 48V | 105Ah | 5370Wh | LiFePO4 | 46Kg | 524mm | 360mm | 261mm |
Please fill out the form below or send an email to [email protected]
We will get back to you promptly.