LiFePO4 Recreational Vehicle Battery
12V 50Ah/100Ah/200Ah/300Ah
Accompanied by ETEKWARE's lithium RV batteries, our customers will be more likely to enjoy the lovely journey with family members or friends by recreational vehicles and less likely to be held back halfway. ETEKWARE's lithium iron phosphate (LiFePO4) batteries are lightweight, maintenance-free, fast-charging, and environmentally friendly, providing reliable power and peace of mind while our customers relish some well-earned peace and quiet.
Product Features
It is hard to find one that can outperform our ETEKWARE lithium iron phosphate (LiFePO4) battery on the market when this lithium RV battery can deliver nearly everything our customers need to support life on the road and off the grid. Our RV batteries are both inherently safe and lightweight, helping our customers not only travel furthermore efficiently but also with less footprint without sacrificing power, performance, and reliability.
More usable capacity, long life (up to 6000 cycles at 80% DOD), partial state of charge tolerance, drop-in replacement, free maintenance, a solid warranty, a stellar battery management system (BMS), and constant power are all its charming aspects.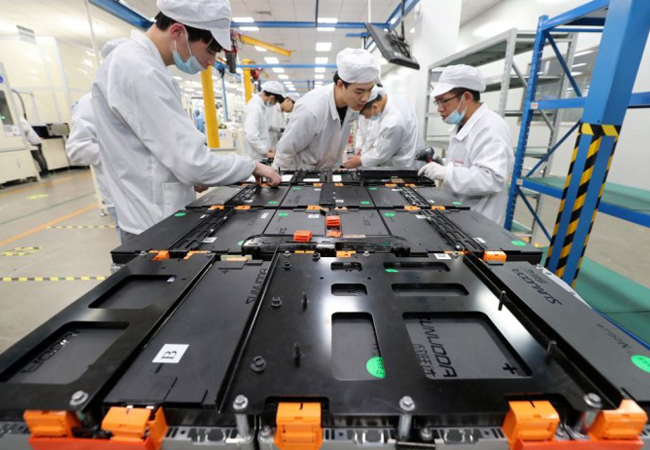 For passionate camping lovers, weight counts a great deal on the normally long-distance journey. ETEKWARE lightweight RV battery serves as an effective fix whose weight ranges from only 7.5Kg to 39.1Kg with four under 20Kg. In addition to being very lightweight, they also come in a range of different and highly compact sizes. Energy capacity is another factor to consider.
Our company offers 100Ah/200Ah/300Ah for our customers to select. Besides, the safest battery chemistry – lithium iron phosphate we employ can greatly boost the sense of security when travelers are enjoying their sound sleep.
In addition, our leading lithium RV batteries can operate in temperatures around -4℉~140℉, being more adaptable for different contexts along the journey. As for the technical parameters, you may carefully check the bottom of this page on our official website ETEKWARE for your reference. Therefore, our well-acclaimed LifePO4 Recreational Vehicle Battery may be the most trustworthy battery that can accompany our customers along the journey no matter what happens in that it has a huge number of shining points.
So please do not hesitate to fill in the quotation form if you are interested in our popular lithium RV batteries for recreational vehicles.
Technical Parameters
Model
Capacity
[Ah]
Nominal
Voltage [V]
Battery
Energy [kWh]
Max. Discharge
Current [A]
Weight
[kg]
W*H*D
[inch]
Operating
Temperature [℃]
Life Cycles
[Times]
IP Rating
ERV1250
50
12.8
0.64
50
6.8
7.7*6.45*6.75
-20 ~ 55
>6,000
IP65
ERV1275
75
12.8
0.96
75
10.9
10.25*6.75*9.88
-20 ~ 55
>6,000
IP65
ERV1280
80
12.8
1.02
80
12.7
12*6.75*8.25
-20 ~ 55
>6,000
IP65
ERV12100
100
12.8
1.28
100
14.06
12.75*6.75*8.7
-20 ~ 55
>6,000
IP65
ERV12150
150
12.8
1.92
150
29
19.25*10.5*8.75
-20 ~ 55
>6,000
IP65
ERV12200
200
12.8
2.56
200
31.75
12.75*6.78*8.7
-20 ~ 55
>6,000
IP65
ERV12300
300
12.8
3.84
200
39.5
19.25*10.25*8.75
-20 ~ 55
>6,000
IP65
Please fill out the form below or send an email to [email protected]
We will get back to you promptly.