48V Powerwall Lithium LiFePO4 Battery
48v – 5Kwh/10Kwh
ETEKWARE Powerwall energy storage system enables you to store solar energy generated during the day and power your home at any time with clean, uninterrupted energy. Our solar-powered battery system consists of a 10-kWh LiFePO4 battery pack with liquid thermal control and an integrated DC/AC inverter. It can offer up to 12kW power output and can work as On-Grid, Off-grid, and hybrid.
Product Features
ETEKWARE Powerwall is a cost-effective solar battery system built using Cobalt-free lithium iron phosphate (LFP) cells for preventing thermal runaway if punctured or if the cooling system fails. Our solar battery system is maintenance-free and has many advantages. For example, it can deliver up to 100% depth of discharge and has exceptional roundtrip efficiency of about 98 percent. Besides, it has a total capacity of up to 10kWh with 90% usable capacity. When it comes to additional storage requirements, up to 6 batteries can be connected in parallel to provide extra storage capacity. For solar homeowners, our Powerwall can best fit your needs, lifestyle, and budget.
ETEKWARE Powerwall energy storage system has a compact size, allowing it to be mounted indoors, outdoors, in garages, or even in large closets. One of the top highlights of our Powerwall energy storage system is that it can keep various kinds of electronic appliances powered during a power outage, and its modular design allows you to add more storage modules to match your increased energy needs in the future. What's more, it offers a 10-year warranty that ensures the battery will maintain up to 75% of its storage capacity over a 10-year lifespan.
ETEKWARE Powerwall BESS system is a wonderful option for those who are looking to reduce their grid dependence. Firstly, it is built with a cloud-based EMS that can dynamically adjust the energy storage system's charge/discharge strategies. Secondly, it is designed as a DC-coupled battery that comes with its own set of solar power optimizers, making it very efficient. And our system has also passed a variety of certifications and qualifications, including UL1973, UL 9540 Rack, UL 9540A System, IEC 62619, CE, UN 38.3, and UN 3536. After years of research, design, product testing, and evolution, ETEKWARE BESS system is now one of the most recognized and trusted home battery storage products in China.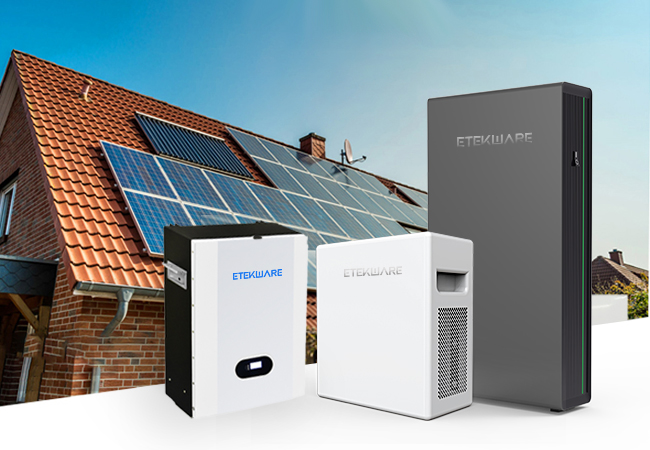 Technical Parameters
Model
Volt
Capacity
Energy
Density
Weight
Thickness
Width
Length
OP-100
48V
100AH
5KWh
45Kg
176mm
370mm
550mm
OP-200
48V
200AH
10KWh
80Kg
176mm
660mm
550mm
Please fill out the form below or send an email to [email protected]
We will get back to you promptly.